Welcome to Deadly Grounds Coffee Online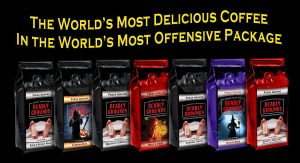 Why be offensive? We're lifelong die-hard coffee addicts, passionate horror fans and have always been offended at what passed for gourmet coffee. Most people start their day with a cup or two but the world unfortunately is filled with mediocre coffee. This makes for a very unhappy way to start your day.
For far too long the coffee industry has let us down offering burnt, bitter, and lackluster flavor for way too much and tried to make us feel special about standing in line for it.
We started on a journey long ago to hand craft the perfect cup and share it with our closest friends along with our unique dark sense of humor. We combined sourcing great quality beans from around the world and roasting it in a special way to extract the most flavor possible. We must have been onto something because we found a whole lot of folks that felt the same way and we even inspired a lot of coffee imitators along the way.
If you suffered in silence wallowing in a death spiral of nasty caffeinated experiences that leaves you hollow inside… then join us. Life is too short for bad coffee. This is where the healing begins.
Be Bold. Be Different.

Be Deadly.